In the construction sector, there is a daily need to transport building materials. How can this best be done, simplifying the work of the operators and optimising time? The choice of a machine makes all the difference.
In this article, we take a closer look at what to consider when choosing an efficient minidumper machine, with a look at Cormidi standards.
Minidumper: the perfect machine for transporting construction materials
The minidumper is the machine that makes this job easy: compact and strong, it can transport heavy construction material, depending on the machine's capacity.
To choose the best machine, it is essential to consider its dimensions: the more compact it is, the easier it will be to handle.
In fact, its small size allows it to pass not only through narrow spaces, but also through limited entrances to buildings and houses for construction work. This advantage guarantees its efficiency in any type of situation, significantly limiting the operators' fatigue.
The possibility of equipping the same machine with different accessories and attachments also proves to be a huge advantage: depending on the situation, the minidumper can be adapted to meet all kinds of needs.
However, all these advantages are not taken for granted, and are often not taken into account by machinery manufacturers. With this in mind, Cormidi designs and builds minidumpers that are able to respond to a variety of needs and situations, for a perfect working performance to support operators.
Cormidi minidumpers: a project studied in every detail
Cormidi has always been more than just a manufacturer of dumpers.
The design of the machine starts from a blank sheet of paper: the idea is to create a top-of-the-range, high-performance product with a very low centre of gravity and great off-road stability, even on steep slopes.
Every little detail has been designed and studied in order to create a complete and innovative machine: the Cormidi minidumper has a very high ground clearance that makes it possible to overcome obstacles, stones and mud without the risk of getting stuck. In addition, the undercarriage with its unique high speed and high power characteristics combined with the oscillating rollers, makes driving pleasant, smooth and guarantees a long track life. This performance is impossible for those who simply assemble parts, unlike those who create them from scratch. 
All the advantages of Cormidi minidumpers
In order to choose the best machine, one cannot limit himself to evaluating only the ability to transport construction material: there are properties that become an invaluable advantage for the user and are part of the additional characteristics of the machine.
In Cormidi dumpers, for example, it is possible to find:
1. The ability to pass through narrow passages: depending on the job, the most suitable machine model can be requested. For internal demolition, a machine less than 70 cm wide can be used so that it can pass through doorways.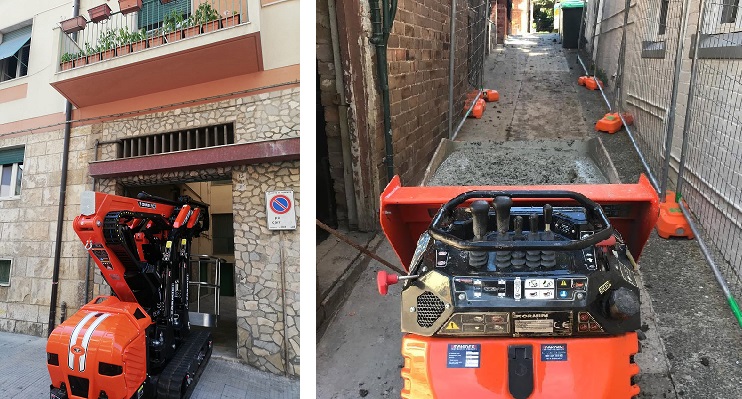 2. The ability to climb stairs: this allows the machine to be used even if the working area is not on the ground floor. All thanks to great traction and stability, as well as a smooth and relaxed ride.

3. Excellent slope capability: the minidumper is capable of overcoming slopes of more than 50% when fully loaded.
C60 and C85 minidumpers: only the best for those who choose Cormidi
Minidumper C60
With the 60 series you can safely transport 600kg: this machine is incredibly strong, good-looking and reliable. The chassis is compact and highly resistant to the toughest jobs, and the compactness of the machine allows it to pass through doorways.
It is also produced in a hi-tip version, i.e. equipped with a body featuring a special mechanism. The device allows the body to be lifted vertically, so that the contents can be unloaded in another elevated position, such as that of a lorry, up to 1.7 metres.
Minidumper C85
Designed, developed and built entirely in Italy, the C85 is a machine with a unique design.
It has:
– a natural and relaxing driving position with very low vibrations;
– a body rounded at the corners that allows the material to come out and prevents rust;
– a high-strength machine frame;
– the fuel tank level built into the machine sides;
– an engine equipped with a double air filter to work in extreme conditions and to ensure longer engine life;
– the heavy duty undercarriage with induction hardened cast steel rollers that guarantee a life of over 1500 hours. 
The 800 kg minidumper in the 85 series also has different configurations: it can be hydraulically tipped, self-loading with a front-loading bucket, or self-loading with a liftable body to dump material into truck bodies.
Do you need to use different attachments? No problem: the wheelbarrow can be fitted with forks to turn it into a forklift truck, a trencher to drill holes in the ground, a flail mower, a cleaning brush, a mini excavator, a hydraulic hammer, a snow plough, a mini loader and many other accessories on request.
Conclusions
When transporting construction materials, it is important to consider all the features of a machine to ensure that it is as efficient as possible in order to facilitate the work of the operators. The size, capacity, accessories, technical characteristics of the components and much more must be considered.
How do you choose the best one? By relying on a manufacturer who keeps all these details in mind and at heart, just like Cormidi does. Cormidi dumpers are conceived and designed in every single part, in order to guarantee maximum efficiency to the recipients.
It is possible to work faster and easier: do you need help to understand which machine is right for you? Do not hesitate to contact us: the Cormidi team will be happy to answer all your questions.