In the field of green maintenance, there are many useful machines and each has its own function. In particular, tracked transporters for gardeners are indispensable because they are highly versatile and can be used for many different applications.
Let's find out what they are and how to choose the most efficient and functional tracked transporter for your needs.
What is a tracked transporter?
Tracked transporters are machines that are equipped with rubber or metal tracks instead of tyred wheels. This feature makes them particularly agile even on steep, uneven and rough terrain, as well as in marshy areas, orchards and vineyards. In short, in all those places where a transporter equipped with tyres would not be able to reach.
The crawler tracks allow the transporter to have exceptional tractive force and also excellent manoeuvrability. These are powerful yet agile vehicles, capable of reaching even narrow spaces without difficulty.
Tracked transporters for gardening: all applications
Choosing a tracked transporter is convenient because it can be used on any type of terrain and for different purposes, thus having more than one green maintenance machine at your disposal.
Here are some accessories that can be applied to the tracked machine in order to take advantage of it when gardening more or less extensive areas.
– Hedge trimmer. Pruning hedges is one of the most frequent tasks for gardeners. Thanks to the cutter bar, perfect pruning can be achieved efficiently and without burrs. The hedge trimmer attachment from Cormidi has a 120 cm cutter bar that allows you to prune hedges up to 2 cm in diameter.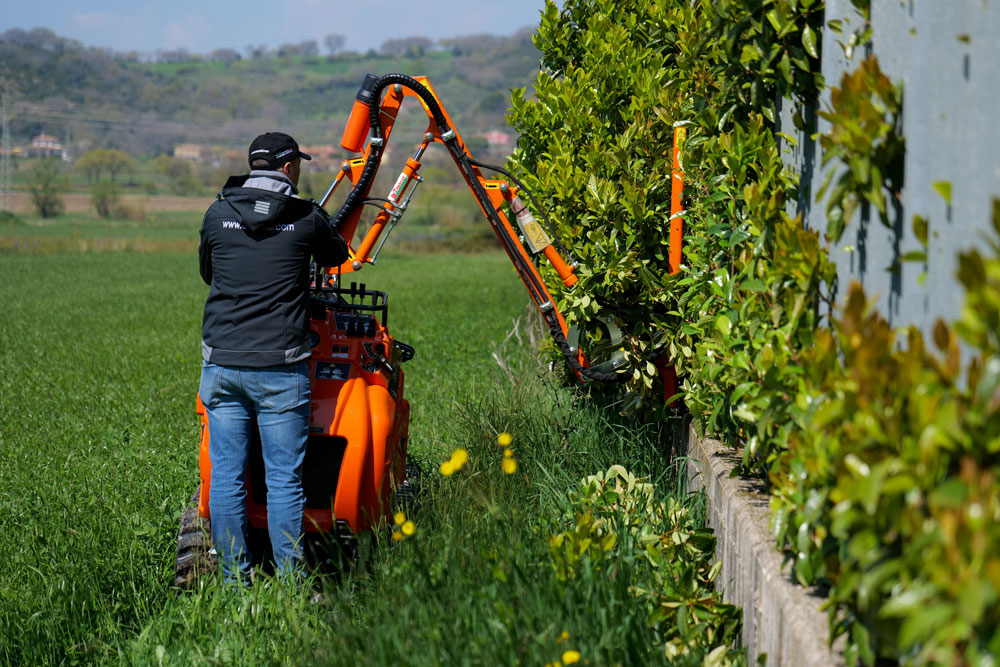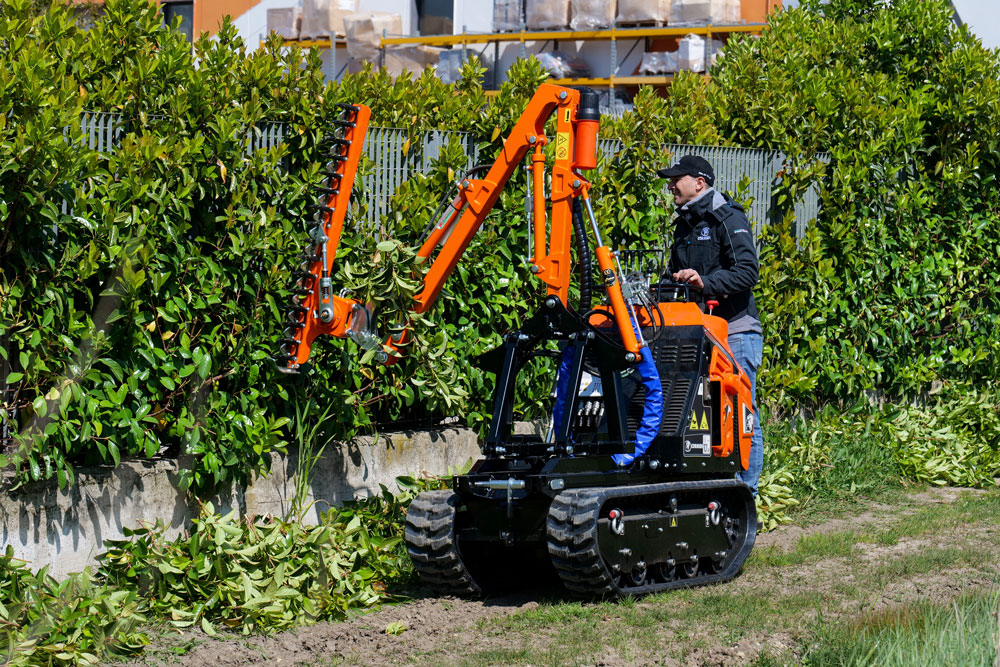 – Flail mower (or shredder). This accessory is indispensable for cutting grass, branches, brambles and all kinds of plants or shrubs in a garden or green area. In addition, it can shred residues from previous work when it is necessary to leave an area clean and clear. The professional mulcher that Cormidi offers as an accessory for its machines can be used even in the most difficult conditions, in complete safety for the operator.
– Stone burier. The stone burier accessory makes working the soil simple and immediate and allows several operations to be performed at the same time: tilling the soil, burying stones and residues, and levelling the ground are all carried out in the same process. With Cormidi's stone burier, you can work optimally even in confined spaces.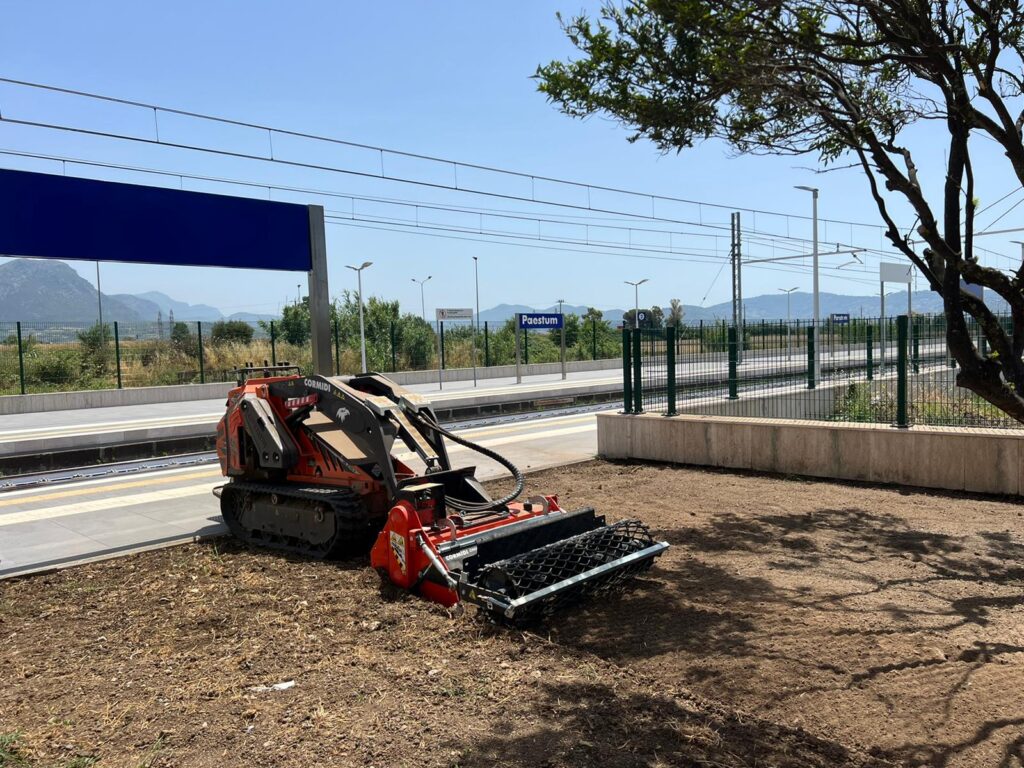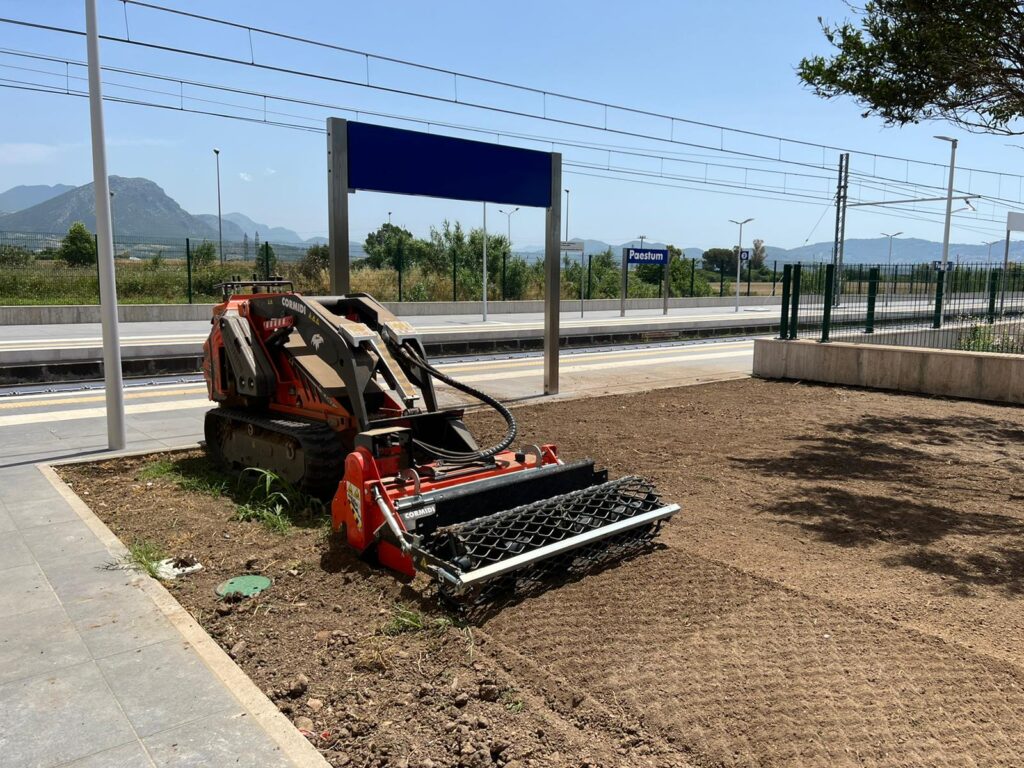 Let's not forget that all tracked transporters can move soil and all kinds of material or debris. Each machine has a different transport capacity: before making your choice, always check the maximum capacity to see which model is best suited to the type of work you have to do.
The Cormidi Solution
Cormidi's multifunctional machinery allows you to exploit all the advantages of a tracked transporter, with the versatility of being able to apply many different attachments.
The best machine for use in gardening work is undoubtedly the 800 kg C85 loader because it is powerful and high-performance, but at the same time agile and easy to manoeuvre. In addition to the accessories mentioned above, it can also be equipped with a skip and bucket for transporting soil and any other material.
Conclusions
The advantages of using a tracked transporter in gardening are obvious, especially if you choose a multifunctional machine that can be used with many attachments. It is important to choose a machine that has characteristics of power and manoeuvrability, otherwise any work would become complex and tiring. These features are fundamental in the development of tracked carriers for gardeners and in the accessories developed by Cormidi.
Would you like to receive more information on tracked transporters and how to make the most of them in the gardening sector? Contact us: we will give you all the answers you are looking for!